By Chris Haring
In its 25th year since legalization, a record number of Oregonians choose Death with Dignity and opt for medical aid in dying as part of their end-of-life care
In 1994, Oregon became the first state to legalize Death with Dignity, which was implemented in 1997. In the 25 years since, the state has experienced a steady ascension in the number of patients who've sought and successfully accessed physician aid in dying. As Nigel Jaquiss wrote for Willamette Week, a record number of folks received prescriptions for medical aid-in-dying medications in 2022 (after a brief dip in 2021). And if HB 2779 – which would remove Oregon's residency requirement – passes, the state's upward trend in Death with Dignity seems likely to continue. Read the full article below:
In Its 25th Year, Death With Dignity Act Sees Record Usage
The number of patients using prescription meds to end their lives increased 9% in 2022.
By Nigel Jaquiss March 13, 2023 at 2:52 pm PDT
The Oregon Health Authority released its annual report last week on the number of Oregonians availing themselves of the state's Death With Dignity law.
The numbers show a strong increase in 2022, as the number of patients ending their lives after receiving prescriptions from doctors jumped from 255 to 278.
That's perhaps a reflection of Oregonians' comfort with the concept, and an aging population. (The median age of those who took their lives last year was 75, up from a from a median age of 72 between 1998 and 2020.)
Here's what participation looks like over time for the law, which voters passed in 1994 but which took effect in 1998*.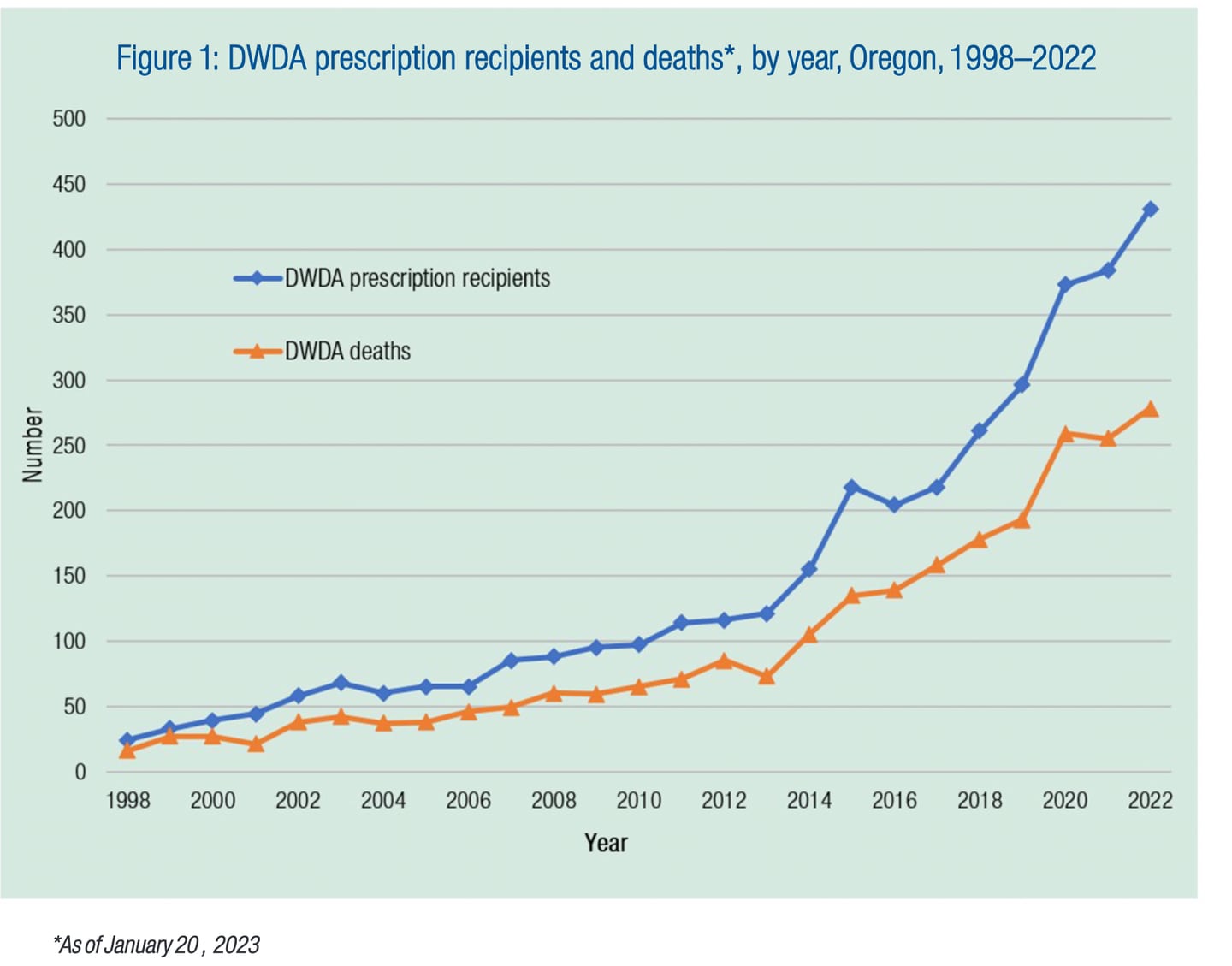 As the number of patients seeking medication to end their lives increased, so did the number of patients who received the terminal dosage but either did not use it or died from other causes.
"Of the 431 patients for whom prescriptions were written during 2022, 246 (57%) died from ingesting the medication," the OHA report says. "An additional 84 (19%) did not take the medications and later died of other causes. At the time of reporting, ingestion status was unknown for 101 patients prescribed DWDA medications in 2022."
Oregon Right to Life, which has opposed the law since its passage, pointed to what the group considers an alarming trend: the relatively brief relationship some patients have with their prescribing physicians.
"The physicians providing these deadly prescriptions hardly know their patients," Lois Anderson, the executive director of Oregon Right to Life, said in a statement, noting that half the people who took their lives did so without a physician or volunteer present.
But the state's aging population—and a recent legal challenge—make it likely the upward trend in dignified deaths will continue. OHA noted in its report that as a result of a settlement in a 2021 federal lawsuit challenging the requirement that recipients be Oregon residents, legislators are now trying to open up Oregon's law to people from other states. (Ten states and Washington, D.C., currently allow the practice.)
"In accordance with the settlement, House Bill 2279 was introduced in the 2023 session of the Oregon Legislative Assembly," the OHA report says. "If the bill becomes law, it will remove all text in the Act related to the residency requirement for patients receiving medical aid in dying."
*The law formally took effect in 1997: https://deathwithdignity.org/history/